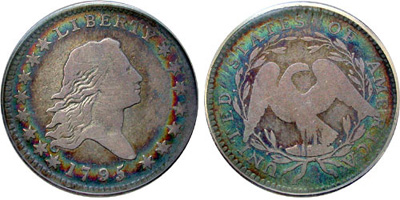 The 1795 Flowing Hair Half Dollar was the second year of issue for the important series. A large number of die varieties exist for this issue, across the total mintage of 299,680.
The major varieties are listed in the Red Book. The scarcest has three leaves under each of the eagle's wings on the reverse, whereas all of the other reverse dies only have two. Uncirculated examples of this variety are virtually unknown, and circulated examples are the usually the only ones offered for sale. Interestingly, this variety also exhibits a recut date, appearing as 1795/1795.
Other scarce varieties for the 1795 Flowing Hair Half Dollar include small head, the final "S" in STATES over "D", the "A" in STATES over "E", and the "Y" in LIBERTY over a star.